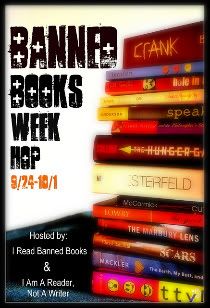 I have to say, I never did much research or reading on banned/challenged books before I signed up for this giveaway. Needless to say, it's shocking what books can be banned for the silliest reasons. Some of it it propoganda, but some of it is just downright ridiculous! I mean, The Great Gatsby was one of my favorite books from my high school reading list. I couldn't believe it when I saw that it was a banned book! And for what reason? Because he was lusting after someone's wife. Really? I mean, I don't condone the behavior, but to ban such a classic for something as inconsequential as one man's desire for another man's wife is jsut absurd! Anyway, my giveaway for the Banned Books Week Giveaway Hop (thanks to Inspired Kathy and I Read Banned Books) will be for ONE of the following (reader's choice):
For those who love the classics: The Great Gatsby (F. Scott Fitzgerald)
In 1922, F. Scott Fitzgerald announced his decision to write "something new--something extraordinary and beautiful and simple and intricately patterned." That extraordinary, beautiful, intricately patterned, and above all, simple novel became The Great Gatsby, arguably Fitzgerald's finest work and certainly the book for which he is best known. A portrait of the Jazz Age in all of its decadence and excess, Gatsby captured the spirit of the author's generation and earned itself a permanent place in American mythology.
For those who enjoy their smut: The Claiming of Sleeping Beauty (Anne Rice writing as A. N. Roquelaure)
From bestselling author Anne Rice, writing as A.N. Roquleaure. In the traditional folktale of 'Sleeping Beauty,' the spell cast upon the lovely young princess and everyone in her castle can only be broken by the kiss of a Prince. It is an ancient story, one that originally emerged from and still deeply disturbs the mind's unconscious. Now Anne Rice's retelling of the Beauty story probes the unspoken implications of this lush, suggestive tale by exploring its undeniable connection to sexual desire. Here the Prince reawakens Beauty, not with a kiss, but with sexual initiation. His reward for ending the hundred years of enchantment is Beauty's complete and total enslavement to him as Anne Rice explores the world of erotic yearning and fantasy in a classic that becomes, with her skillful pen, a compelling experience. *Contains explicit and graphic scenes of a sexual nature*
For those who want to share a banned book with their children: The Giving Tree (Shel Silverstein)
'Once there was a tree...and she loved a little boy.'
So begins a story of unforgettable perception, beautifully written and illustrated by the gifted and versatile Shel Silverstein.
Every day the boy would come to the tree to eat her apples, swing from her branches, or slide down her trunk...and the tree was happy. But as the boy grew older he began to want more from the tree, and the tree gave and gave and gave.
This is a tender story, touched with sadness, aglow with consolation. Shel Silverstein has created a moving parable for readers of all ages that offers an affecting interpretation of the gift of giving and a serene acceptance of another's capacity to love in return.
For those who enjoy young adult: Harry Potter and the Socrecer's Stone (J. K. Rowling)
With the release of J. K. Rowling's Harry Potter and the Sorcerer's Stone, the first in a series of tales about a young wizard in training, an international craze was born. Not since C. S. Lewis's The Chronicles of Narnia has a children's tale of magic and mystery so enthralled the reading public. And it's easy to see why. Eleven-year-old Harry Potter, the plucky yet nerdy hero of this series, is the embodiment of every uncool kid's fantasy. Unpopular in school, picked on by bullies, and persecuted by his adoptive family, the disheveled and bespectacled Harry manages to not only survive but thrive by discovering friends, magical powers, and a great destiny he never knew he had.
The chosen book will ship from The Book Depository so please check that they ship to you. Please note, the cover for the book you chose may not be the one pictured.
To enter, just fill out the Rafflecopter form below. Good luck, and read a banned book this week!