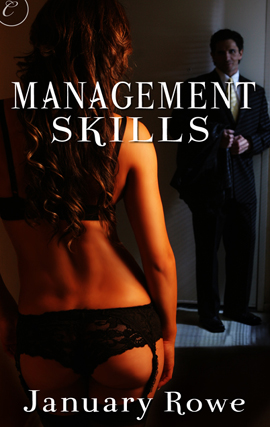 Synopsis:
When CEO Grant Edmonds meets with his new production manager, he immediately recognizes her as Silver, an exotic dancer who once mesmerized him at an exclusive fetish club. Though he was forbidden from pursuing her back then, there's nothing standing in his way now. He's not looking for an after-hours fling—he wants to own her. In every way.
As much as Allie Fairfax tries to deny her past, and the way her body responds to Grant, she soon finds herself having mind-blowing sex with the boss. Despite her own desire to surrender to Grant's sexual authority, she's not willing to risk her career. After all, she's been owned before, and it ended badly.
It's all or nothing for Grant. If Allie wants more of the fiercest orgasms she's ever experienced, she must consent to his rules...
Review:
Ahem . . . to say that I was unprepared for this book is an understatement. "Mind-blowing sex"and "fiercest orgasms" aside, I didn't expect what I got when I dove into this book.
Maybe I'm being naive but I really didn't grasp what the description meant when it said "own" and I brushed it off, assuming that this would just be a sexy-romp-in-the-bedroom kind of book. Well, unknowingly so, I was introduced to the world of BDSM and my head is still spinning.
I liked the characters in this book. Now removed from the world of exotic dancing, Allie seems determined to leave that part of her life behind her and move on. She dresses, as her friend would say, like a nun to cover her assets and is determined to be taken seriously by her peers. She is strong and independent, at least until Grant gets her in the bedroom (or wherever they happen to be!).
Grant, despite his uncommon sexual desire, is your average sexy millionaire who is smitten with the new woman in the office. Not a new character by any means, until he's behind closed doors. Then he's persuasive, aggressive and incredibly sensual.
Rating:
This was definitely something new for me but I have to say that I didn't hate it. In fact, I quite enjoyed it. It was short, only taking me about two hours to finish but that was more than enough!
Heat Factor:
Blazing!
I still don't know how I feel about being "owned" sexually but I have to say, Grant made it seem incredibly tempting! Reading about Allie teetering on the edge of orgasm and insanity over and over (and over) again was enough to leave my palms a little sweaty and make me a little restless in my seat! This one had enough fire in it to start an inferno in the arctic!
Definitely pick this one up if you like cold showers after you finish a book!
An electronic copy of Management Skills was provided to me for review by the publisher and netgalley.com